At the Wichita ITA Event last weekend, OTA sent 7 players: Lexi Beaver, Catherine Nettle, Emma Baker, Colton Cheek, Kyle Henry, Andrew Miller, and Jack Neal.  For those that don't know, the ITA series is a collegiate-focused tournament schedule, where most players are either incoming or returning college players.  We came away with 6 wins as a group, which is not bad for a group of high schoolers playing with the big kids!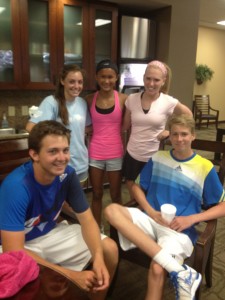 All of our girls won a singles match, and Emma added a doubles victory as well.  Kyle won two rounds (including one over a Division I player from Dallas), and lost 3rd set breakers to players from the Big 10 and Big East conferences.
Overall it was a very good tournament for the group, and we had a great time, too!  A movie night, separate coaches and player rooms, and (most importantly) a restaurant that served grass-fed beef… what more could we ask for???  How about our mental training coach coming along to observe the group in action?  Check.   Jason showed up for both days, offering many quality insights to Christy and Jared about all of our players.
We'll be planning on this again next year, so keep it in mind – It's a great experience!!