30 OTA players – not to mention 4 coaches – traveled to Little Rock to sit in the rain… I mean, for the Arkansas State Closed.  Actually the rain wasn't so bad.  While it made the Saturday schedule jam-packed, and Sunday DID last a little longer than usual, it was still the coolest Closed anyone there could ever remember!!
To be honest, the real beneficiaries of the weather were the spectators.  Our players are in such good shape that they were generally able to physically handle everything the weekend threw their way, and could have handled the usual Closed heat as well or better than the rest.  The final day showed that, as even when it got a little warmer, we closed out the tournament with a flurry of wins.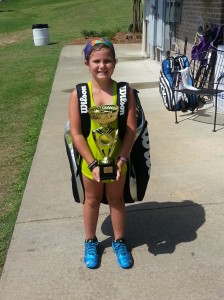 Here are the top finishers from the weekend:
Ella Coleman – G 10s – Champion in Singles and Doubles
Brooke Killingsworth – G 12s – Champion in Singles and Doubles
Emma Baker – G 16s – Singles Champion, Doubles Finalist
Ryan Hargrove – B 16s –Singles Finalist
Emily Anne Gean – G 14s – 3rd place
Kyle Henry – B 18s – 4th Place in Singles, Doubles Finalist
Harshit Dhayal – B 10s – 5th place
Matthew Freeman – B 12s – 5th place
Catherine Nettle – G 16s – 5th place in Singles, Doubles Finalist
Kruti Shah – G 16s – Doubles Champion
Lexi Beaver – G 18s – 5th place
Dylan DeLuca – B 18s – 5th place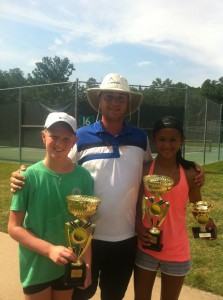 Clearly, our girls were the stars of the tournament this time!  To win 3 of the 5 girls divisions – and to place in all 5 – is a pretty rare event at this tournament.  (We were actually close to having a girl in the finals of 4 divisions, as Emily Anne narrowly dropped a third set breaker in the Girls 14 semis!)  In all, over a third of the players we brought placed in their divisions, and we are happy to see the group's effort and dedication this summer pay off.
Thank you to all of the players and parent who attended, you represented yourselves and OTA incredibly well!!!
!