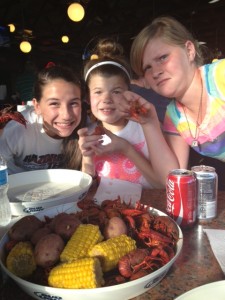 15 OTA players made the trip to Shreveport last weekend, and it turned out to be an absolutely fantastic weekend!  The weather was phenomenal, which made for good tennis and enjoyable spectating… which is OF COURSE the most important thing!!
A quick look at some of our result highlights:
Emma Baker won the Girls 14s without dropping a set the whole tournament.   Lexi Beaver beat the #1 seed in the first round in a 3rd set breaker, then won her semifinal in another breaker, en route to finishing 2nd.  And Hayden Swope followed up last week's finals appearance with a 3rd place finish.  3 out of 15 in the top 3 is a pretty solid showing, so great job!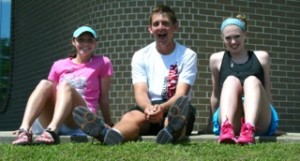 In addition to those in the Top 3, Brooke Killingsworth, Catherine Nettle, and Kyle Henry all won out in the back draw, making it to the conso finals (which due to time restrictions are not played in these events).
So that's how we did.  And, as usual, that's only part of the story!  Here are some of my favorite moments from the weekend:
Listening to Coach Beau (aka, The Varmint) and (mostly) Hunter Nall trade hunting/redneck stories for 6 ½ hours.  Seriously, it was awesome.
At the end of Friday's matches, Hunter gutted out an 11-9 tiebreaker in the 2nd set to close out his victory.  About 2 seconds after his match finished, Jack Neal split sets and went into a breaker of his own.  At the first side change, Andrew Miller sighed and said, "I think it's easier playing than watching."  For those that don't know, this isn't common.  Tennis is an individual, often cutthroat sport, where every player is looking out for him/herself.  For a 15-year-old kid to be so into his OTA teammates' matches speaks first to Andrew's quality of character, but hopefully also to the culture of our program.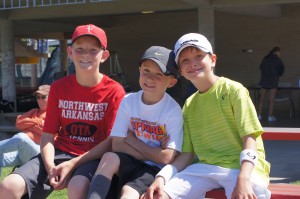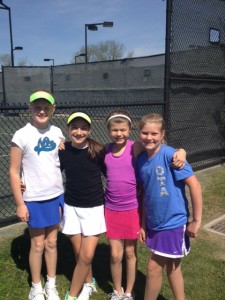 This week's Quote of the Week is, "Our greatest glory is not in never falling, but in rising every time we fall," from Confucius.  Patrick Swope sent it to me, because he thought it was appropriate for the weekend.  I totally agreed.  I generally think that the most difficult match to play is usually the 3rd and 4th place match, because you are getting over the disappointment of being so close to the finals, but you still have to gather yourself to go play an extremely tough opponent.  Hayden Swope did just that, dropping his semifinal in a fashion that left him feeling as though he never brought his "A" game, and then bouncing back to take down a very solid opponent for 3rd.   Well done, Haydo!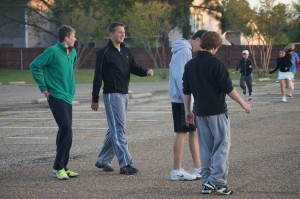 But, if there is a situation that might be even more difficult, it's when you are one of the top seeds and lose early.  The embarrassment is what makes this kind of loss so difficult.  Having to walk around the facility for the rest of the weekend, thinking everyone is looking at you like the overrated loser who couldn't hold their ranking.  Then you have to check in the next day and play consos, where it is easy to fall prey to the fallacy that you have nothing to gain, and only something to lose in every match that's left.  Just ask Kyle.  Seeded #2 in the Boys 18s, he lost a frustrating 3-setter in the first round.  How did he handle it?  Won out in the consos, dropping only 4 games in 2 matches.  Or you could ask Brooke.  She also lost first round.  Except she was the #1 seed.  She showed up the next morning and absolutely punished the consolation draw.  In fact, her image grew because of how she handled that situation, as coaches, tournament officials, and other parents all took notice.  I told someone today that I've never been happier with a tournament where so many of our top seeds lost.  They didn't understand.  But I know that those players have won, and will win again.  To watch Kyle and Brooke handle themselves like true champions is as rewarding as it gets.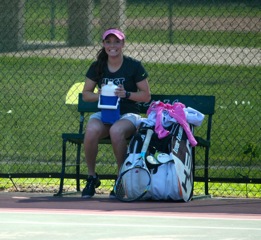 But my favorite moment of the whole tournament happened before the first match was even played.  We had warmed up, and I wanted to get Jake Keefauver some more hitting in before he left for his site.  Before I could ask anyone, Kyle piped up, "I'll hit with you, come on."  Jake is 12, and just won his first STA Level 3 match this weekend.  Kyle is 17, and one of the top players in the state of Arkansas.  Again, this is first and foremost a(nother) reflection on Kyle's character, but is also an aspect of OTA that we absolutely love.  The Varmint (Coach Beau) said to me in the hotel on Saturday how impressed he is with our kids and parents.  How he's never been around a group like that.  It's sometimes hard for those new to the program, or outside of it, to understand all of our talk about "OTA family."  But it's real.  And we are grateful to all of you for making it that way!
So there you have it, the 2013 Red River Shootout round up.  Thanks to all that went, it was a great weekend!!