Another Southern Level 3 tournament, another successful OTA weekend!  We were very impressed with our overall play, and hope you can all see the progress you're making.  It was great having 28 players to watch, as it gives us a great feel for where we are as a program.  And, with 3 finalists in one Level 3 tournament, we tied our record… for the second straight tournament!!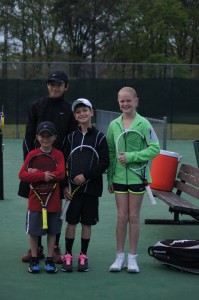 Here were our top finishers:
Brooke Killingsworth (Girls 12s), Hayden Swope (Boys 12s), and Dylan DeLuca (Boys 16s) all made the finals… and all got second.  Oh well, next time!  Dylan made it for the second straight tournament, avenging his loss in last month's Polar Bear final in the semis.  Hayden gutted out one of the most physical matches of the tournament in his semis, taking down a kid who crushed him last fall.  And Brooke lost a tough 3rd set tiebreaker in the final – on her 11th birthday!
Avery Hughes (Girls 12s) was our other placer, finishing 4th.  In addition, Colin Clay (Boys 10s) and Catherine Nettle (Girls 16s) won out in consolation.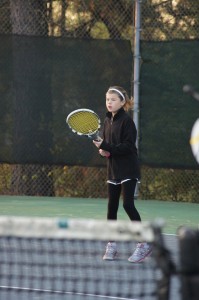 In addition to our top finishers, here were some standout moments from the weekend:
For the most part, our attitudes were incredible!  OTA players demonstrated discipline and self-control, without sacrificing passion and fight.  It made us proud as coaches to watch them.  But this weekend was impressive in a slightly different way – we stayed above the fray in many moments where we could have just responded in kind.  Brooke was treated about as rudely as possible by one of her opponents, and never took a shot of her own, just ignored it and went about her business.  Hayden witnessed an absolutely epic meltdown by his opponent, and simply grabbed his stuff and walked away.  All over the grounds, we witnessed OTA players refusing to sink to lower levels of behavior, and we were just thrilled!
Jack Neal HAS to be singled out, though.  One opponent insulted and screamed his way through their match.  Jack never did more than chuckle and shake his head before walking away.  Great, right?  No… amazing!  Because Jack used to go ballistic over any slight, real or perceived.   For some people, it's easy to ignore things.  In a way, it's even more rewarding when you know how hard it used to be for someone to do that.  Way to go, Jack!
Mary Houston had an entire city (it felt like) against her in her 2nd round match.  Parents (not hers) were calling out wrong scores, coaching, and generally cheering obnoxiously against her throughout the match.  Let's just say the umpires – while they normally do a great job – were a bit overmatched in this case.  Not only did Mary have the courage to fist pump and fight her way to victory… but she did it at age 10.  Incredible.
And finally, there was a poignant, bittersweet moment in the Girls 12s semis.  Brooke and Avery met up and had an absolute battle.  For those that haven't played, it is a difficult situation playing a good friend, doubles partner, teammate, or major rival.  It is even harder to play someone who is all of those!  Our girls showed each other the respect to play as hard as they could, without holding back or whining or making excuses.  They were fist-pumping, crying "come on," and practically diving for balls all over the court.  When the dust finally settled, with Brooke narrowly taking the 3rd set breaker, they came to the net and Avery immediately embraced Brooke.  It was a devastating loss for her, yet she had the maturity and dignity to congratulate her friend.  And for Brooke, it was a huge win, yet her celebration was muted to say the least.  Before their next match, I saw them walking through the trees at Rebsamen together.  Laughing.  That is what it means to compete, and that is a true OTA attitude.
So thank you all for a great weekend, we appreciated all of you!  See you at practice, and next weekend in Shreveport…