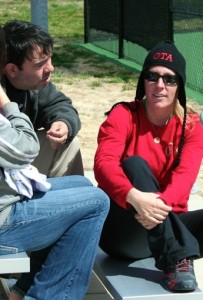 What a great weekend we had for our 8th Annual OTA Championships!!  Thank you all so much for participating, it was a fantastic showing from our entire group… as usual!  We'd like to thank our sponsors Coppertone and Nestle for providing sunscreen and water.  Also, thanks to our Process Communication Model trainer, Jason Leal from Talknotch (pictured to the right, no doubt waist deep in PCM theory with Christy!), for coming down to see the kids perform and share his insights with our coaches.
This year's overall champion was Jordan Sheppard, who won after appearing in the finals for the second straight year.  Jordan is the last of the "Original 7" members who began with us on a January day a little over 7 years ago.  (We got a little nostalgic, so you'll see some "old school" pictures of him below!)  In this, his 8th and final try, he overcame a very game Grady McCain, who pushed him to the limit before Jordan pulled out the final tiebreaker, 16-14.
In addition to securing his first OTA Championship, the win also vaulted him to the top of the leaderboard in this year's OTA Player of the Year race.   It came down to the final day, but with Luke Lundstrum barely dropping a 3rd set breaker to Grady in the semis, Jordan clinched it by simply reaching the finals.  So a big congratulations to Jordan, for taking home both titles in the same day!
Two other awards were given out, and they are some of the toughest ones to judge… which is a really good thing!  The Sportsmanship Award went to Veronica VanderMolen, and the Fight Award went to The Richie Joshuva.  We had lots of great choices for both awards (in fact, the Fight Award truly came down to the final match between The Richie and Srikar Chikkala), but in the end we felt that Veronica and The Richie were most deserving.  Congratulations to both!
So thanks again for coming out and showing your OTA pride, it's this type of event that truly shows what kind of family we are!  We appreciate the incredible attitudes from all of our players and parents alike.  Playing against your friends is sometimes the toughest thing to do, but you all managed it with the class and dignity we've come to expect.
Great job to everyone, we'll see you this week!
Rafa Division – Jordan Sheppard def Grady McCain
Djoker Division – Hayden Swope def Kruti Shah
Federer Division – Jake Keefauver def Tripp McConnell
Murray Division – Agnibho Roy def Carson Nettle
Stephens Division – Carter Swope def Grace Coleman
Isner Division – Ella Coleman def Andrew Schweitzer
2013 OTA Player of the Year – Jordan Sheppard
OTA Championships Winner – Jordan Sheppard
Highest Southern Ranking – Hayden Swope (11th in the Southern Section, Boys 10s)
OTA Doubles Champion – Jordan Sheppard/Srikar Chikkala
OTA Team Event Champions – Luke Lundstrum, Nathan Street, Jack Neal, Hans  Corbell, Sammi Cowan, Tony Kopek, Tripp McConnell
OTA Shoot-Out Winner – Dylan DeLuca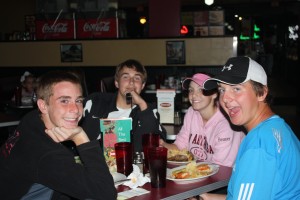 Hall of Fame
OTA Champions:
2006 – Abbey Sharpe def Andrew Todd
2007 – Abbey Sharpe def Retz Chapman
2008 – Abbey Sharpe def Martin Tabler
2009 – Martin Tabler def Abbey Sharpe
2010 – Daniel "DJ" Joshuva def Caleb "C Mac" McReynolds
2011 – Reed Churchill def Kyle "Holiday" Henry
2012 – Kyle "Holiday" Henry def Jordan Sheppard
2013 – Jordan Sheppard def Grady McCain
Player of the Year:
2013 – Jordan Sheppard
Abbey Sharpe – Drury University
Martin Tabler – University of Arkansas-Ft. Smith
Caleb "C Mac" McReynolds – Harding University
Rob Hodous – University of Texas-Tyler
Varun Shah – University of Charleston
Colton Cheek – John Brown University