The state doubles finals was quite the OTA event!  Mallory Tabler and her partner from Bentonville High narrowly defeated Haeleigh Long and her Rogers High partner 6-2, 7-5.  The win was the culmination of an extremely successful career for Mallory, but one that had consistently seen her come up just shy of the elusive state title.  In all 3 of her previous years, she was a doubles finalist, placing second every time.  Bringing home the championship was not only critical to her team's success, but also was an excellent way to close her individual career.  Oh, and Haeleigh?  All she did was contribute to 3 state titles for the Mounties in her career.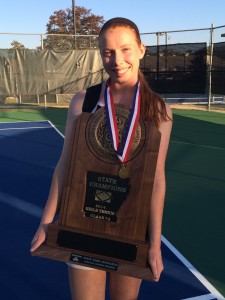 Winning the doubles title also helped the Bentonville girls win the team title.  Kruti Shah qualified in singles for the Tigers, making the quarterfinals to give her squad some much-needed help in the points department.  Fantastic job for all the girls!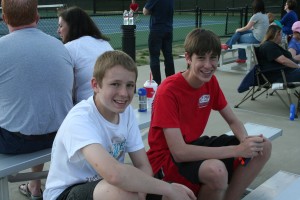 And finally, in a busy week for OTA, Robert Terry (pictured above in the red with LITTLE brother Doug) was announced as the recipient of the Jay Freeman Award, presented by the Arkansas Tennis Association to the most improved boy in the state.  It comes as no surprise to his coaches, who have watched him develop into a solid player, and a great teammate, and a true OTA leader.  Congratulations, Robert, you deserve it!