Ozark Tennis Academy, in conjunction with our Bentonville and Rogers Parks and Recreation programs, is pleased to offer Junior Team Tennis to the junior players in Northwest Arkansas.  With several sites to host matches, we are able to get more players on more teams than ever before!
WHAT IS USTA JR. TEAM TENNIS?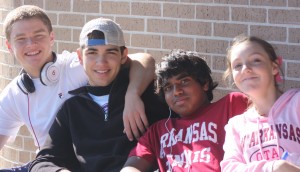 USTA Jr. Team Tennis is the largest youth tennis program in the country. It brings kids together in teams to play singles, doubles and mixed doubles against other teams. It promotes social skills and important values by fostering a spirit of cooperation and unity, as well as individual self-growth.It's a fun environment for kids, and an opportunity to learn that succeeding is really more about how they play the game – win or lose.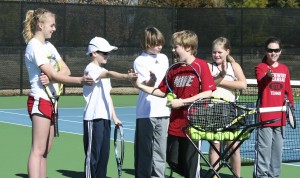 JTT emphasizes fun, fitness and friends. The focus in this kind of play is enjoying the exhilaration of exercise and refining the skills that make tennis fun for players at all ages and levels of competition.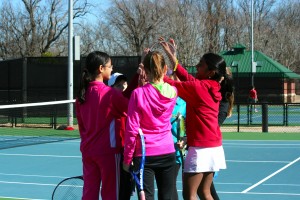 WHO CAN PLAY?
USTA Jr. Team Tennis is for girls & boys, ages 5 to 18 of all abilities and experience.  Whether your child has been playing tennis for years, or has never held a racquet, there's a spot on the team for them.
Teams are divided into one of five league divisions: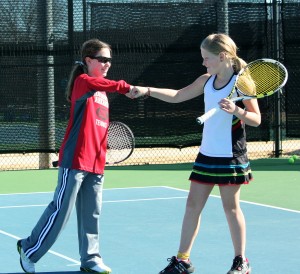 • 8 & under (Beginner)  *QuickStart Format
3-6 players
Non-gender specific
• 10 & under (Beginner, Intermediate, and Advanced) *QuickStart Format
6-10 players
Min. 3 boys & 3 girls
• 12 & under/ 14 & under/ 18 & under (Beginner, Intermediate, and Advanced)
6-10 players
Min. 3 boys & 3 girls
* Participants' ages must be within the appropriate division through Aug. 31, 2013
HOW DOES IT WORK?
The Spring Season will typically run from February to July; however, most local league seasons will consist of 6 to 8 weeks of practices and matches. Only 2 teams are needed to create a league. Teams then compete against other teams from the same geographic region and can be played anywhere from a local park or school to a commercial or private club. Players have the opportunity to participate in both singles and doubles play throughout the season. The season concludes in a State, Sectional, and National Championship.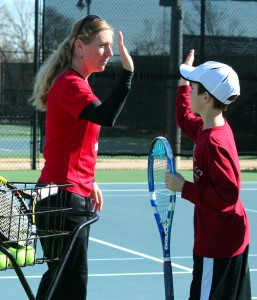 COST?
The cost to participate include costs for a USTA membership (if new member) and a program fee. A USTA Junior Membership is required for all JTT programs and the cost is $20 for one year. Program fees for Memorial Park include a $20 JTT league fee, plus a $100 team fee ($50 for 8 and Under teams), which generally breaks down to $10 or less per team member.  This allows for reservation rights at the facility, as well as to have an OTA Coordinator for matches.  If you cannot afford these fees, please talk to us, and we will put you in touch with the state or local coordinator about financial aid opportunities.
*To receive a 10 & Under FREE USTA membership, click here!
CHAMPIONSHIPS
– Northwest Arkansas USTA Jr. Team Tennis Fall Championships (November 1 – Memorial Park)
IMPORTANT LINKS AND DOCUMENTS
Register to Play
USTA Jr. Team Tennis Regulations
Coach/ Captain Resources
Local League Coordinators
2013 State Championships
2012 State Championships Results
Jr. Team Tennis Program Evaluation